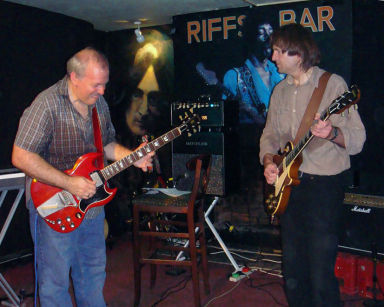 Photo by Andrew Jones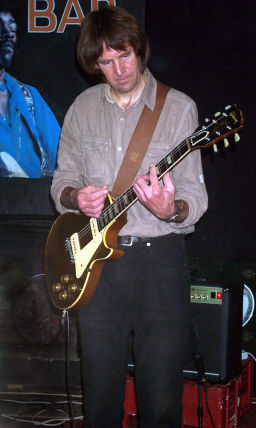 Photo by Carol Warren
It was with a bizarre mixture of pride and panic that I joined my super-talented friend Mike Keneally on stage at Riff's Bar, near Swindon, Wiltshire on 23rd October. Two guitars, no drums. And nowhere to hide… judging from the photographs, it would be true to say that some worked a good deal harder than others that night. In fact Mike performed without a break for almost two and a half hours!
I hopped up to join him initially for his songs Dee'n'A, Father's Day, 2001, and Frank Zappa's Sleep Dirt, with Mike playing my Martin D28 acoustic with me on the old gold-top. I left him in his flying saucer, buzzing the crowd for an hour or so before returning for a cover of Allan Holdsworth's Floppy Hat, followed by Mike's Pride Is A Sin, rocking out on our Gibsons. He closed the set with his incredible one-man rendition of Zappa's Inca Roads, on which I gamely underpinned his guitar solo with a few chords. He even had the crowd clapping along very professionally in the 7/4 section! We returned for a scrappy run-through of Mike's Rosemary Girl as an encore; Mike had played a blinding set, delighting his faithful followers, some of whom had travelled some distance to see him, and amazing many new converts.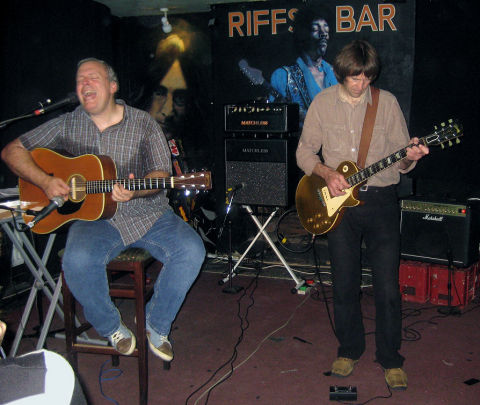 Photo by Kev Denley
Special mention must go to Andy Pett at Riff's, without whom the gig would never have happened. And rather than tend bar, he took care of the house sound, as well as providing sustenance, equipment and microphones—thanks, Andy!