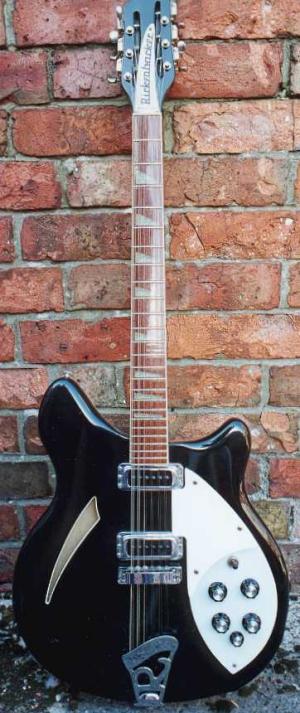 1976 Rickenbacker 360-12
I finally found an affordable Ricky 12-string in the summer of 1981. A stock stereo model in black ("Jet-Glo"), it wasn't the classic George Harrison version I'd hoped to find; nonetheless, it was in mint condition, and it had "the sound".
And what a sound! I fell totally in love with it and couldn't leave it alone. The guitar itself was a bitch to play; twelve strings all fighting for space on a neck just 1 ½" wide at the nut. But it was a labour of love, and the ensuing weeks' rehearsal sessions for what would become the English Settlement album were characterised by a shimmering twang that permeated a good half of the new songs, taking XTC off on another journey into un-charted (for us) guitar territory.
Many guitarists throw up their hands in despair at the temperamental wiles of the 12-string Rickenbacker, which largely involve problems with tuning stability. Half those battles can be overcome at the stringing-up stage. Ensure the nut-slots are cut wide enough; get the strings on correctly (patience, now)... octaves first, in the box of the headstock... stretch 'em in, tune 'em up... then the heavier ones on the exposed tuners. That accursed "R" tail-piece casting is the devil's work. Even after 18 years' practice, I still need to set aside an entire afternoon to sew a full set into this abominable attachment.
On a historical note, I bought this guitar from a songwriter called Andy Desmond, one of the first artists to be signed to the Kinks' Konk Records label in the mid-1970's. Unfortunately his album, Living On A Shoestring, produced by Dave Davies, was released the year before my Rick was manufactured!
Two years later I found my perfect 12-string Rickenbacker, the 1964 model (well-documented on this site – stay tuned), following which the 360 has become largely redundant. Nowadays, I keep it strung in Nashville tuning (just the six thinner strings) which is occasionally useful for colouring rhythm parts.
Recording debut: XTC - Senses Working Overtime (January 1982)
Features on: XTC albums English Settlement and Mummer, and on XTC's last tour (1982)