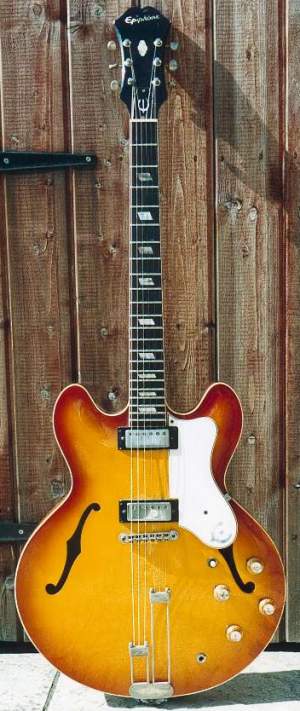 1964 Epiphone E-360T Riviera
When the original Epiphone company folded in 1957, Gibson acquired the name and some basic tooling and began producing guitars with the Epiphone marque at their Kalamazoo, Michigan plant. This tactic allowed them to get their instruments into Fender dealers' franchise outlets, the most serious threat to Gibson's market at the time.
The success of the ES-330 and 335 series of semi-hollow bodies in the late 50's and early 60's meant that Gibson could manufacture Epiphone alternatives and expand their market still further. First to appear was the Epiphone Sheraton in 1958 (fancy inlays, gold plated, like ES-355), and in 1961 the Casino arrived (2 single-coil pick-ups, like ES-330) which later became hugely successful thanks to its association with The Beatles.
In 1962, the Riviera was introduced, featuring two new mini-humbucking pick-ups that were also installed in the Sheraton. The Riviera was supplied in a honey-coloured sunburst finish the company called Royal Tan. The two-piece "Frequensator" tail-piece was an Epiphone invention first fitted to their Masterbilt series of arch-top acoustics in 1939, designed to give maximum length to the lower strings in an attempt to balance their output with the thinner upper strings. The jury is still out on how successful it might be, though it still looks pretty cool.
XTC was mixing tracks for what would become the Mummer album at the old AIR studios in Oxford Circus in January 1983, and I went up to Denmark Street one afternoon to see what was about. I noticed a nice Riviera hanging on the wall of one of the stores there, which really caught my eye; the price ticket was way too high, but I thought I'd keep it in mind for future reference. On my way back to the studio, I picked up a copy of the Melody Maker and was surprised to see a Riviera for sale in the classifieds, at a reasonable price. I called the number and made an appointment to view the guitar a couple of days later. When I went to look at it, I discovered it was the same immaculate instrument I'd seen hanging up in the shop 2 days earlier! Always pays to go private, I say...
This lovely guitar actually sounds more like a fuller-toned Stratocaster than a Gibson, and is a real joy to play. I should use it more often than I do!
Recording debut: XTC - Grass (May 1986)
Features on: The Meeting Place (played by Andy P.), Pink Thing (XTC); Shiny Cage (A.P. again) (Dukes of Stratosphear); Strawberry Fields Forever (Colin's Hermits)