Pick of the Month - February 2001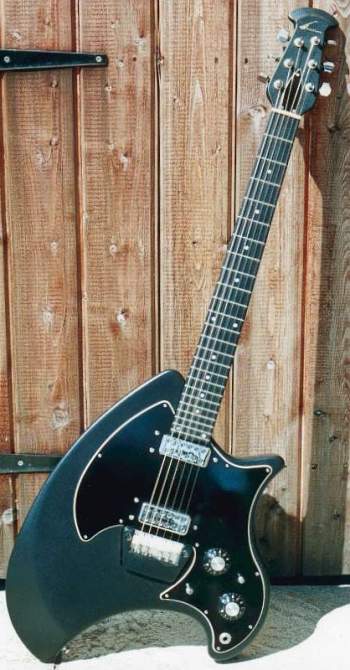 1972 Ovation Breadwinner
The Ovation company took giant steps in the early 70's toward developing a means of amplifying the acoustic guitar for stage use, the result being the Balladeer series of fibre-backed electro-acoustics, still popular today. Their forays into the world of solid-bodied electrics were not so successful; though it raised a few eyebrows on its introduction in the summer of 1971, the Breadwinner was destined for a relatively short life, despite a number of innovative features.
The neck and body are made of light-weight mahogany, producing good tone and sustain, and is sprayed with what appears to be a derivative of Teflon, which makes it very hard-wearing and robust. The strings pass over individual nylon bridge-saddles and are anchored in an adjustable steel casting sunk into the body and balanced on three screws. The body was designed for perfect comfort and balance while playing seated, and in this respect works very well. The small humbucking pick-ups sound like a slightly pokier Telecaster, the neck unit giving one of the best sounds for jazz that I've heard. There is a second pick-up circuit for yet more sounds, activated by a micro-switch.
So with all this going for it, how could it fail? In my opinion, the fault lies with the active circuit, powered by two hefty 9-volt batteries which are activated the moment the guitar is plugged in. Inconsistencies in the power output of the batteries affects the sound, which becomes more unpleasantly distorted as the voltage decreases. Note to guitar designers everywhere: we do not like battery-powered active circuits! What works well for tiny Piezo-style acoustic transducers is not equal to the task of powering your full-shred tone circuit and pick-ups. A bit of a disappointment really.
Recording debut: One of the songs for XTC's BBC session of February 1987; possibly "Meeting Place" (so far un-released)