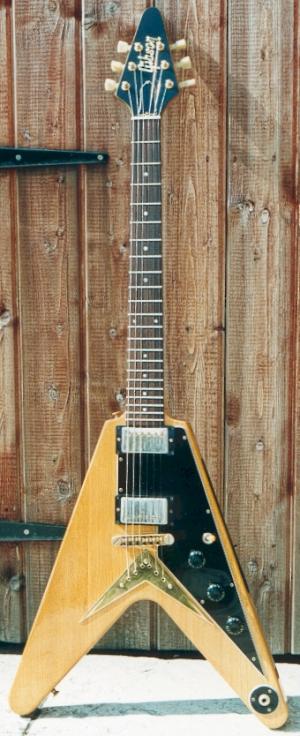 1982 Gibson Flying V Heritage
It was late 1979 before the Gibson company - never likely to be accused of being quick on the up-take - finally acknowledged the huge demand for their electrics manufactured in the fifties, and began producing limited runs of the Les Paul guitar built to their 1958 specification. Featuring a highly figured two-piece curly maple top, and finished in cherry sunburst, they looked stunning, and sold almost as quickly as the factory could produce them. Realising they had a potential gold-mine in their illustrious heritage, the then-ailing company set about re-issuing the next most sought after items in the vintage catalogue, namely the Korina-bodied Flying V and Explorer of 1958. Commercial disasters at the time, only 120 V's were produced, and about half as many Explorers, which made them the very essence of elitist cool among players and collectors. Accordingly, prices of these rare originals soon became astronomical.
The First Flying V I ever saw was in the hands of Dave Davies of The Kinks, as they performed their current hit "Til The End Of The Day" on TV's "Thank Your Lucky Stars" in late 1965. I'd never seen a guitar that shape before; it was the perfect accessory for a group with a name like that! I hadn't even started out on guitar at that point, and knew absolutely nothing about them, but I really kinda wanted one. 23 years later, during XTC's long, lost weekend in Hollywood, I finally got my wish. Or at least, a re-issue of it.
Gibson have produced a number of different Flying V designs over the years, but for me this is the only one that gets it right. The sand-coloured Korina wood is actually an African timber called limba, a relative of mahogany. It's resonant and light in weight, making it perfect for solid-bodied guitars. While the 1958 original comprised of two 1 3/8" pieces of Korina joined in the centre, with the grain running more or less parallel to the outside edges, and a one-piece neck, the re-issue sports three pieces, the grain running vertically. The neck is also three pieces – five, if you count the edges of the head-stock. Most 1958 V's came with gold-plated hardware and white control and socket plates, whereas the re-issues are standard black. Mine had lost its original bridge, it having been replaced with a Muller roller type, as used on many Guild solids from the seventies. The lovely gold-plated metal logo tacked on to the head-stock, an adornment that previously only graced the company's amplifiers, adds the perfect finishing touch of quality to what has become a design classic.
I confess I bought this guitar principally for its pose factor! I was delighted then, to discover that the thing has a fantastic sound and is a joy to play. Coming from a time when I'd considered Gibson to be pretty much dead and buried, it's an exemplary return to form – one of the best-sounding guitars I own, in fact. The humbucking pick-ups combined with the limba wood chassis produce a bright, clear tone with a brilliant cutting edge to it. I've used it on dozens of home recordings, and on Sendiva's album last year, but as yet it's still to find its way on to record.