Pick of the Month - July 2001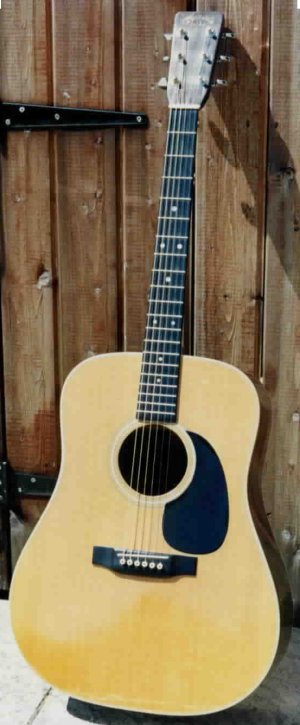 1971 Martin D.28
Until the recording of the English Settlement album in 1981, XTC's acoustic guitar tracks had been done on a cheap Italian-made Eko Ranger, much to the dismay and consternation of engineer Hugh Padgham. Having given his Antoria acoustic away to a competition winner on Noel Edmonds' "Swap Shop" show earlier in the year, Andy had purchased a Yamaha to replace it, and written two albums' worth of songs with it. Initial attempts to commit both this and the Eko to tape satisfactorily were dismissed by Padgham, and I was despatched to Denmark Street with a wad of cash and orders to bring back "something we can use". I returned with a tasty 1973 Martin D.35; we placed a microphone in front of it and our problems were over. We had a hit record! (A neat picture of this guitar can be seen in the July 2001 Q magazine review section). It has featured on every XTC and Dukes album since.
The assistant engineer on the 1988 Oranges And Lemons sessions in Los Angeles was a lovely chap called Joe Fiorello. Joe was fortunate enough to own a new-ish Limited Edition re-issue of the classic Martin HD.28; the original style 28 featured a herring-bone patterned trim around the top edge which had been discontinued in 1947. He was generous enough to let us use his guitar on our record, most notably the pseudo-slide riffery I played on "Scarecrow People". I fell madly in love with the guitar, but no matter how much I begged and pleaded with him Joe refused to sell! Since the D.35 was spending more and more time at chez Partridge, I decided it would be appropriate to seek one out that I could call my own. With the album being mixed and a couple of weeks left before my return home, I grabbed the Recycler and went fishing.
And look what I hooked! Your no-frills, bog-standard work-horse acoustic guitar, but with a tone as sweet and intoxicating as cherry brandy. I absolutely love the big, warm sound these things make, particularly with brand new strings. Put a capo on it at 2 or 3 and it sings like a canary. I've taken it to every session I've done since, and it always draws compliments from engineers and artists alike. The guy I bought it from was noted LA session guitarist Dean Parks; I nurture a fantasy that this instrument might just feature on some of my favourite Steely Dan and Stevie Wonder songs!
Recording debut: Scarecrow People (BBC version), XTC March 1989.
Features on: Oranges And Lemons U.S. Acoustical promo tour 1989; Il Sole Nella Pioggia sessions (Alice, 1989); Third Stone From The Sun (David Dreams, 1989); Nonsuch sessions (XTC, 1991); Green Man sessions (Mark Owen, 1996); Apple Venus sessions (XTC, 1998); Willow (Sarah Randle, 1998); in fact, practically every studio session I've done from 1989 to the present.