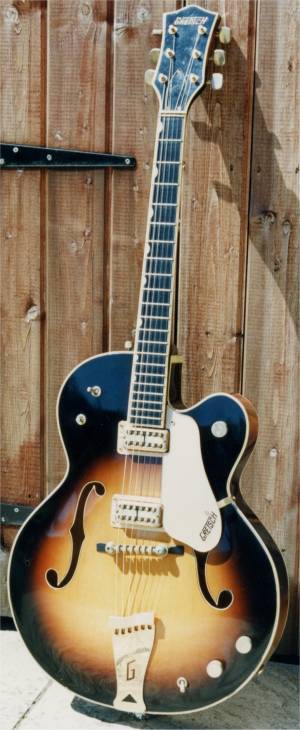 1965 Gretsch 6192 Country Club
The classic Gretsch jazz guitar, the Country Club had nothing to do with Nashville or the Grand Old Opry, or even Chet Atkins; these things were designed for playing in the lounge. Introduced in 1951 as the Electro II, to compete with Gibson's L-5CES and Super 400CES arch-tops (introduced the same year), they out-sold both and did much to cement Gretsch's growing reputation during the decade. Re-Christened the Country Club in 1954, the model underwent a number of subtle changes over the years but remained in production right through to 1981.
This deep-bodied mid-60's variant sports a sober sunburst finish (alternatives were Natural and Cadillac Green), gold-plated metal parts, two Filtertron humbucking pick-ups, kidney-button Grover machine heads and a "Space Control" roller bridge. A standard 3-position pick-up selector switch is joined by a tone switch on the upper left bout; in the centre position, the signal is uninterrupted, but two separate degrees of mufflage are available when flipped up or down. Man, those crazy jazzers! There's also a master volume control in front of the pick-guard, and two independent pick-up volume controls at the back. Next to them sits a switch that, for reasons known only to its designers, by-passes the electronic circuit completely.
I confess I do not actually own this guitar; it belongs to Brooklyn pal David Dasch, who granted me custody of it twelve years ago, safe in the knowledge that it has gone to a loving home. Personally, I've always found Gretsch guitars to be a bit of an effort, their tiny frets and poor sustaining properties at odds with my natural tendency to dig in and wail! However, this is a lovely instrument and I've put it to use on a number of studio sessions. It also makes an appearance in XTC's video for "The Ballad Of Peter Pumpkinhead", on which it plays chords and lead lines far removed from the style for which it was originally intended!
Recording debut: The Ballad Of Peter Pumpkinhead, XTC 1991.
Features on: Humble Daisy; Dear Madam Barnum (XTC, 1991); She Was Never Drowning (Martin Newell, 1994); You Dinosaur Thing (Steve Hogarth, 1996); etc.