Pick of the Month - Christmas 2001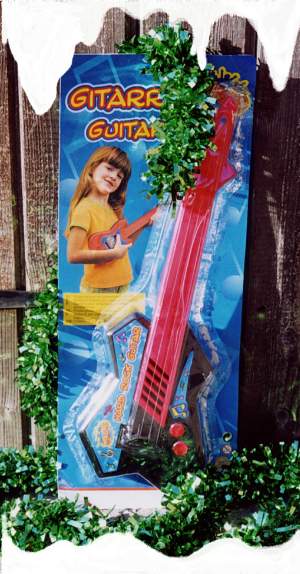 2000 Simba Hard Rock
With its all-plastic, neck-thru-body construction and eye-catching two-tone red and black colour strip, this futuristic axe from Simba is clearly built for shredding. Four high-tensile nylon strings attach to banjo-style plastic tuners that actually alter pitch. Body design allows easy access to all eight frets, so two-handed neck tapping is never a problem. A revolutionary V-shaped bridge puts exotic tuning possibilities within the player's grasp, and a five-bar grille covers an acoustic chamber that really brings the beast out of those strings.
Two red counters are stuck to the top, though frankly they don't appear to do very much. Brightly-coloured stick-on motifs lend the image a decorative decadence, and tell the world what the thing is. The biggest surprise is in the back - a secret recess reveals a detachable pick, supplied at no extra cost. The red and black plastic mouldings are bolted together by six weapons-grade Pozi-Drive screws.
But does it perform well? The babe in the photo obviously thinks so, though closer inspection reveals her posed with the standard "Rock" model, a 2 pick-up Strat copy nothing like as dangerous.
Every kid's going to want to wake up on Christmas morning with a Hard Rock, and this beauty fits into a stocking a treat. Get Junior started right away!