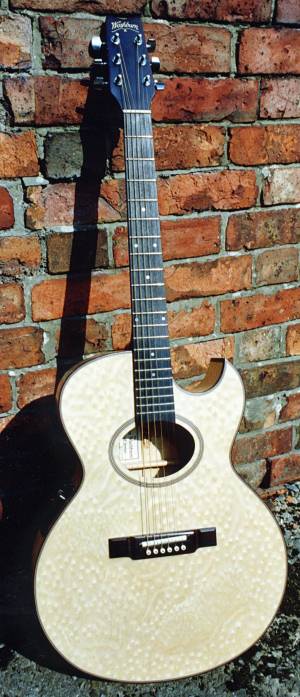 1992 Washburn EA30N/S electro-acoustic
In March 1993 I'd been invited by Dave Mattacks to join a group of musicians and artists he'd assembled to perform at a charity event in London. The Band du Lac, as we became known, were there to support a number of well-known British singers who'd generously donated their time and energy to appear on stage at a ball, held in aid of the British Heart Foundation.
During rehearsals it became apparent that I would need an amplified acoustic guitar for a couple of songs. Much to my embarrassment I didn't own one, but Howard Jones (keyboardist for the event) kindly came to the rescue and loaned me his Washburn EA-30. I liked how it felt and sounded, and used it in the show. As it was something I could definitely make use of, I decided to seek one out for myself in the weeks that followed.
I chose this Festival Series EA-30N/S (natural, satin finish) mainly for its attractive birds-eye maple veneer. The sides and two-piece back are similarly figured, inside and out. The top is flat, but the back has a subtle arch to it, achieved by increasing the body depth from 3" to 3¼" at the waist. The top and back are outlined with what looks like rosewood binding, and the bridge, fingerboard and headstock veneer are also rosewood. It has a one-piece neck, possibly mahogany, which is a comfortable size. The tuning machines are stamped Washburn and are modern Grover-style knock-offs. Poor milling around the capstan holes results in a tendency to slice through the plain strings when tuning up, occasionally.
The guitar is equipped with the British-made Equis II pre-amp with a 3-band equalizer, powered by a 9-volt battery. It sounds pretty good, if a little snarly. Its Achilles' Heel, however, is the bridge transducer. Six tiny magnets locate into a rectangular recess beneath each string in the plastic bridge, the string pressure forcing the unit down on to a copper contact strip. If only!
I've never had any luck with acoustic transducers. In order for them to function correctly, constant contact has to be maintained at all times, and with my often less-than-sensitive picking and strumming style, vibration alone is enough to shake the magnets out of whack. A new set of strings will usually rectify the situation briefly, but basically it's a flawed system that needs more research, in my opinion.
A pretty little guitar then, and not expensive, but of limited practical use beyond the camp-fire sing-along and the song-writing den.
Recording debut: Better Dreams, Steve Hogarth,summer 1996.
Features on: dozens of home recordings (before pick-up broke)