1994 Fender Japan Stratocaster "40 Years Of..."
It is only right and proper that we Brits stick with the Japanese theme for this most important - though doubtless brief - month in our sporting calendar! Here, then, is a Limited Edition oriental Stratocaster issued as part of a series to commemorate 40 years of Stratocaster production. Not to be confused with the American "40th Anniversary" Strat, these were manufactured in a variety of colours and specifications for the Japanese market only.
This guitar also features a recent development from the far-eastern manufacturers, the Foto Flame neck finish. A neat piece of trompe l'œil designed to mimic the tiger-striped appearance of figured maple (a highly desirable characteristic for guitar aficionados), the process involves photographically superimposing the effect on to an otherwise plain piece of timber. It works very well, too; most of the stripes line up front and back, and even react to light, I swear - just like real wood! The neck itself is huge, and could have benefited from being more "V"-shaped, like its '50's forbears. Jonny Kinkade was hesitant about re-fretting it, as he wasn't certain if pulling the frets out wouldn't permanently damage the finish. But I twisted his arm, and he did the job with no problems at all.
I've often criticised Japanese guitars for their cheap hardware and poor circuitry, but they certainly know how to spray a finish. This translucent lacquered blond has always been a favourite of mine for Fender guitars, and here it's as hard as nails, turning a yellowish scrambled-eggs colour with the passing of time. Leo Fender originally decreed that his "blond" finish - inspired by the "limed oak" coating seen on much pre-War furniture - should only be applied to ash-bodied guitars, though I doubt that is the case here. Basswood seems to be the timber of choice in the East, and this one weighs a ton. The pickups that the guitar was supplied with were typically feeble, so I replaced them with Kent Armstrongs and added an American 5-way switch.
The bridge hardware is actually pretty good - at least equal to the standard of CBS-era Fenders - though the tremolo unit only came with 3 springs. The neck-plate is engraved "40 Years of Fender STRATOCASTER'S …still rockin' 1994" (sic). Though not in the same league as my '63 Strat (Miss March 2000), sound-wise it's bright and quite punchy, but lacks that soulful warmth in the low-mids that we all love in pre-CBS Fenders.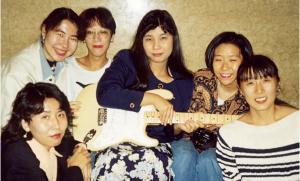 left to right: Yuko, Hideyo, Cheryl, Luna, Fish and Noriko
In September 1994, I visited Japan with Martin Newell, Captain Sensible and a band, to play a few shows to promote Martin's "Greatest Living Englishman" CD (ref. The Cleaners From Venus - Live In Japan (Osaka 1994), Jar Music JAR-043, July 2001).
Whilst there, I met up with six lovely girls who were all huge XTC fans. On the day we flew home, they arrived at the hotel and presented me with this guitar! Thank you again for your kindness and generosity, ladies; I will treasure it always.
Recording debut: Miss Van Houten's Coffee Shoppe (Martin Newell), December 1994.
Features on:The Good Things (Terry & the Love Men), 1995; The Deep Water (Steve Hogarth), 1996.