1959 Gibson Les Paul Junior
And it came to pass that in the Spring of 1958, the Gibson company re-vamped their range of solid-body guitars in a bid to make up for sales lost to Fender and Gretsch, currently twanging up the airwaves and cutting a dash with their trendy paint jobs. The four Les Paul models may have been fabulous instruments, but lacked the sound and imagery then popular in thoroughly modern late-fifties America. The gold-top Standard, with its recently-fitted Humbucking pick-ups, now boasted a striking two-piece book-matched maple top, finished in sunburst with the new cherry-lacquered back and sides (stay tuned!). The black Custom gained a third humbucker, while the Special and Junior were altered quite radically, with the upper shoulder scooped out into a double cutaway (see photo below for comparison).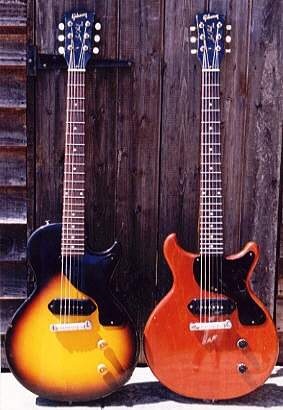 Les Paul Junior before & after the makeover
They were offered in Gibson's latest cherry finish, which looked fabulous on the mahogany, with "limed mahogany" - a sort of translucent custard-yellow similar to the Blond colour Fender used on the Telecaster - as an option. Black bonnet control knobs, previously only fitted to the Custom, were added and the Junior received a new-look tortoise-grain cellulose pick-guard.
Thousands were produced over the next two-and-a-half years, yet still they never really caught on - they didn't twang, and were way too conservative looking. Early in 1961, the Les Paul models were finally discontinued and replaced with the slender and attractive SG range. The Les Paul Junior would doubtless have remained a humble and dowdy beginners' guitar, had it not been for the development of Marshall's 100-watt amplifiers in the late sixties, and the Heavy Rock movement that followed, which revolutionised the sound of the electric guitar. Players finally began to appreciate the Junior's potential as a serious instrument.
The double-cutaway Juniors have a slightly brighter sound than their single-cut forbears, probably the result of that significant missing chunk of wood around the neck joint. The upper frets are more easily accessible, and the whole thing roars with that famous Gibson tone, the high notes pealing out like a carolling siren. My favourite exponents of the "double-cut" sound are Steve Hunter and Dick Wagner, whose work on Lou Reed's "Rock'n'Roll Animal" album epitomises the essence of seventies rock guitar; also, Hunter's subsequent association with Jack Bruce and Peter Gabriel were a huge influence on this player.
My guitar comes from late 1959 and still has all of its original parts, though the bridge is damaged and it's been re-fretted. The red pigment in the original cherry lacquer has faded over time, revealing a nut-brown appearance as the natural colour of the wood comes through; the cherry finish is still quite visible beneath the pick-guard and bridge.
The pickup reads a walloping 8.54K, the neck is the size of a rowing oar and that slab of magic mahogany produces a powerful, warm tone with an almost violin-like timbre. It's my favourite workhorse guitar, as h-Band devotees will probably be aware. Covered in scratches and scrapes, it may not be much to look at, but then guitars this good get a lot of use. The Plain Janes are usually the best cooks!
Addendum
I may have been a tad harsh in my assessment of last month's Pick, the Samick Electro. I've since re-seated the bridge saddle, and re-strung it with harder-gauge strings, and it seems to be working OK right now! Mind, the tuning machines are rubbish - the barrels have split already. Also, I forgot to mention how well finished it is; I've paid far more for instruments not nearly so nicely turned-out. All in all then, a great little guitar which, for around 300 quid, represents superb value for money. Please accept my apologies, good people at Samick.