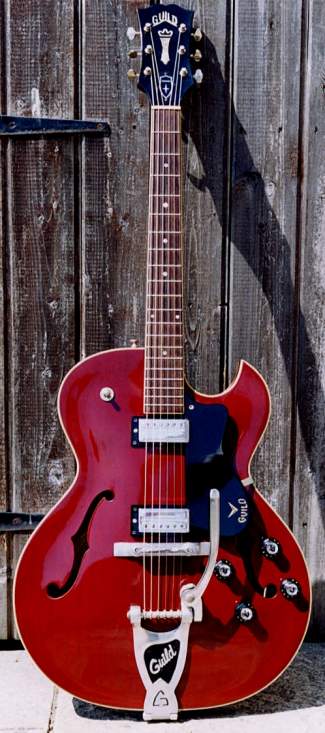 1964 Guild Starfire III
I had a friend at school, Chris Hawkes, an even bigger Kinks fan than I was. Whereas I could just about afford to buy the odd 45, he had actual LP's, among them their fabulous watershed album The Kink Kontroversy, which he kindly loaned me. As the gnarly guitar tones of "Milk Cow Blues" tortured the speakers, I'd sit and contemplate the strumming hand on the cover photo and promise myself that some day, somehow, I too would possess an electric guitar with "Guild" written on it, and make a noise just like that…
Years later I discovered the guitar in the picture was a Guild Starfire III, the second version that had Guild humbucking pickups (replacing the DeArmonds of the early models), binding on both sides of the body, and a Bigsby tremolo system with the Guild logo cast into it. Both neck and body are mahogany, though some were made of maple and clear-lacquered. Many of the mahogany Starfires have an attractive top veneer of Sapeli, the grain having a stripey appearance, though this one does not. Dave Davies' guitar was unusual, in that it had an old-style "rounded" pick-guard with a gold chevron logo, a type that largely disappeared around 1962 together with the DeArmond pickups. I searched for years for one identical, eventually tracking down this immaculate example on E-Bay.
At least, it's immaculate now! The guy who sold it to me had acquired it from its original owner, who'd purchased it after the Beatles had invaded the U.S.A., practised on it for a year or so, then given up. It had remained in its case, together with its original Guild strap and a crusty Switchcraft jack lead, for years (apparently). When it arrived, the controls were caked in mould, as were the strings, which included a wound third and had silk-wrapped crimps. Perhaps they were original, too! Pulling everything out and thoroughly cleaning it, I could find no evidence of it ever having been tampered with, yet for some odd reason the pickups are out of phase. It's a condition that actually works very well with this guitar - with the selector switch centred, you are immediately sent into a perfect jangly rhythm mode without needing to make any volume adjustments.
Though perhaps not as glamorous as a Gibson or a Gretsch, the $395 Starfire was nonetheless a huge success for Guild, and they sold in their thousands throughout the sixties before being discontinued in 1972. They have been sporadically revived from time to time since, and are currently in production again under Fender's auspices. It's become one of my favourite players, ideal for every style from country to rock to jazz, to - whatever you consider the Kinks' mid-period music to be. Light in weight and perfectly balanced, it's very easy to play and impossible to put down.
This guitar dates to September 1964, so there's a chance it came from the same batch as the Kinks' model, which I last saw Davies playing in 1966 promoting "Sunny Afternoon".
I wonder what happened to it?