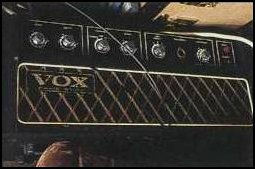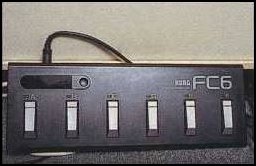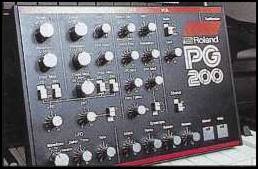 Roland PG-200
controller for JX-3P synth
"I'm interested in completing songs using keyboards and guitars."
KM:
You don't use a sampler in the home studio, do you?
DG:
I don't like samplers very much. I don't think it's a very creative process. Maybe I think like this all the more because I'm a guitarist, but music is something that comes from within your body. The way you tune and the way you play influence the music, but to me sampling is just stealing other people's music. Of course it's all right if you use a very short sound to decorate your song, but it's disgraceful if you extract a four-bar drum track.
KM: XTC haven't played live for a long time. Do you like playing live?
DG: When I went to Japan with Martin Newell in 1994, half the time I played guitar and the other half keyboards. I just brought Proteus/1, which I controlled through a rented Yamaha KX88. The only other time I played keyboards on stage was when I toured with Aimee Mann in 1993.
With XTC I used Korg's little monophonic synth (MiniKorg 700s - Ed.) for sound effects. In 1981 we bought a Prophet-5 for touring, but we ended up doing just one tour. I think the amp was a Roland JC-120. XTC stopped touring in 1982. I don't really miss it -- a good night's sleep is more essential nowadays - but I do miss playing live sometimes. As long as I can still make music, I'm happy.
KM: Can you tell us about your recent activities?
DG: I'm not a composer, but I'm interested in completing songs using keyboards or guitars. These days I get more work as a guitarist and played on Steve Hogarth's album, Ice Cream Genius. I did a short tour with him. I may go to Japan with Louis Philippe's band and play guitar, but it's not certain.
As far as XTC's new album is concerned, I've been listening to the demos and thinking a lot. I'm working over ideas with Andy as well. Actually, I'm thinking about buying an ADAT and a Mackie 8-Bus too.
But I don't like computers. I'll need to learn lots of things, so I'm still resisting (laughs). Probably it would be convenient, but I'm not enthusiastic about it. Of course I think that my system, with just an old sequencer and analogue tape, is quite primitive, but making full use of it is a challenge for me.
KM: Thank you very much for your time. We'll be coming back to take some pictures of your studio.
DG: Okay. I'll have to tidy it up before tomorrow's photo session so that the photographer will be able to walk through! (laughs)
Translated by
Shigemasa Fujimoto
with help from
Cindy Lou Marie Fujimoto
. Additional notes and updates supplied by
Dave Gregory
, November 1999.