Archives - Autobiography
We decided to form a band together with the bass player from his old group Skin Deep – Tony Green – and former Six Left Feet drummer Tony McCondach. The lead singer problem was solved with the arrival of "Rustic" Rod Goodway, formerly of the Pack, latterly of Magic Muscle - Alehouse made its debut at the Brunel Rooms Amphitheatre on 26th February 1974, a twin-guitar rock/blues band with a penchant for Steely Dan covers.
We made our TV debut on Swindon Cable channel Viewpoint in May. Marshall 100-watt amp head added June 1974 – WAY too loud – I sold it 3 months later and replaced it with a 30-watt 1962 Fender Tremolux piggy-back amp, which I use today with my Fender 6-string bass. '61 Stratocaster traded for new stock Telecaster November 1974.
A handful of original songs finally gained Alehouse a recording test for EMI (late 1975) but nothing developed (we were not ready) and the gigs slowly dried up.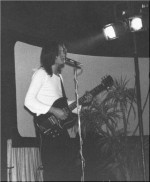 Gogmagog gig
Redundancy at work May 1976 coincided with "professional" offer from Forest Of Dean prog-rockers Profile; sadly bade Alehouse farewell and threw in my lot with Jim Leech (Hammond) and Sam Heaps (drums); stayed a year and played just 5 gigs as Gogmagog; returned to Purton, skint.
Took a job with White Arrow parcels service July 1977, delivering mail-order door-to-door.