Archives - Autobiography
I re-contacted Tony Green and pitched the idea of a sixties cover-band to play in pubs. We enlisted Trowbridge drummer Ron Richman and Calne vocalist/harpist Pete Goss; became Dean Gabber and His Gaberdines and played punk-energy pop standards and Dr. Feelgood covers in pubs and clubs in the Swindon and Bristol areas throughout 1978.
Added a beaten-up 1963 Gibson ES-335 in January 1978, and Pete's 1963 Sherwood Green Fender Stratocaster in May – I still use both to this day, though they've been re-finished. By the year's end, I had saved sufficient funds to put a deposit on a house and bought 16 Stanier Street in Swindon.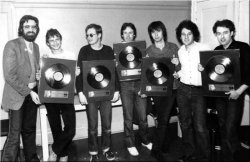 Fame and fortune await...
In mid-January 1979, I received a phone call from Andy Partridge in the U.S. with the offer of an audition for XTC. Could I afford to say yes, with a mortgage to pay? Decided I could. On 27th January, I skipped work to rehearse with them at Terry Alderton's Tudor Studio barn at Shaw, followed by a recording session at the BBC studios at Maida Vale on 8th February.
I finally left home and moved into Stanier Street with my brother Ian on 12th February. I quit my job at White Arrow on 3rd March, at last to realise the dream of being a professional musician, at the age of 26.