Archives - A Bit About Me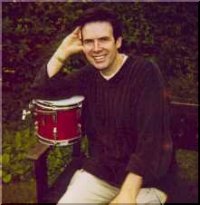 Ian Gregory
I was born two years after Dave. We had a very happy childhood and grew up during a fantastic period of the century. We come from a musical family, and both had violin and piano lessons. Dave was a natural; I struggled! Playing scales and preludes is boring to a young boy; if they had taught me how to play Beatles tunes that would have been much more fun.
There was no television in our house until we were both in our teens, so we missed out on all those 60's pop shows like Ready Steady Go, Juke Box Jury, Top of the Pops, etc. We would get tantalising glimpses on our Gran's television when we went to visit!
But what we did have was access to Dad's record player, and our paper round and pocket money went on buying records. Dave soon got an electric guitar, and he was totally absorbed in it from the moment it came into the house; he practised in his bedroom for hours and hours.
I have had an interest in drums since I was very young (maybe five years old?) from seeing pictures of Dave Clark, Brian Bennet, etc, with their sparkling drum kits. I think I actually got to own my first drum set when I was about 15; it was a terrible thing and sounded awful. I traded up to better equipment within a few years. Whereas Dave was dedicated to his craft, I had a more casual approach and would spend my spare time playing cricket or tennis with younger brother Bob. Also, practising was (and still is) a problem, as you have to make a hell of a noise which causes all sorts of anti-social problems. You can only learn so much on a practice pad, and anyway I never strived to be like Billy Cobham; I wanted to be Ringo or Charlie Watts!

Ian In A Nutshell
Name
Ian Roy Gregory
Birth
17th September 1954 in Purton
Education
St Mary's Primary, Purton and Malmesbury Grammar.
Left with four 'O' Levels!!
Height
Six feet.
Weight
180 lbs
Hair
Black; some grey strands since my children arrived!
Eyes
Green.
Status
Married to Elizabeth with 2 boys: James and Glenn
Food
Italian.
Drink
Red wine.
Colour
Black.
Television
I prefer fact to fiction and any live music except opera.
Music
Very wide range, from western swing to Vaughn Williams.
Songwriter
Paddy MacAloon.
Group
The Roches
As you can see from Dave's autobiography, we shared a house together, and it was great to experience the progress of XTC from small clubs to world class act. Dave was seldom home, always off on tour so I pretty much had his house to myself! I still find it ironic that after all the hard graft, the moment XTC hit the big time and could afford to tour the world in comfort and make some money, Andy decided to call it a day – most bizarre!
After Terry Chambers emigrated to Australia, I was fortunate enough to be invited to "do" the videos and television slots, and this led to my involvement with The Dukes of Stratosphear.