This article by
Ted Greenwald
first appeared in the November 1987 issue of
"Keyboard Magazine"
Reluctant Keyboardist Reveals Rundgren's Production Style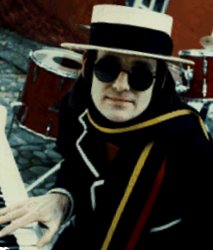 performing The Meeting Place for TV
While the punk movement was turning late-'70s London into a morass of multi-colored mohawks, black leather, and under-developed performance skills, XTC jumped upon stage with its own brand of screwball pop. To the punk formula of stripped-down arrangements and high-energy delivery, XTC added hooks, humor, and precision.
When keyboard player Barry Andrews left the band two years later, Dave Gregory stepped in -- but with a guitar. By 1982, though, Gregory and guitarist/leader Andy Partridge agreed that something had to change.
As Gregory puts it, "We both feel that two guitars in a band is usually one guitar too many." Their search for an alternative led to the purchase of a Prophet 5 synthesizer, and Dave Gregory has been a keyboard player -- more or less -- ever since.
"I've never thought of myself as a keyboard player," he insists, sidestepping the fact that his facility, rhythmic chops, and sense of style would make many players proud. "I'm the only one in the band who can play with both hands, so I get the job. I'm really a guitar player."