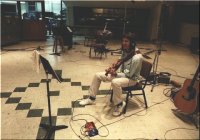 'Oranges & Lemons' sessions
While Rundgren did most of the orchestral arrangements, the elaborate string lines in the mournful "1,000 Umbrellas" are Gregory's handiwork. "Originally, all Andy had was an acoustic guitar and his voice," he explains. "It was a rather doomy, miserable little thing with all those descending chromatic chords, and I thought, `Oh dear, how can l cheer this miserable song up?'"
A Roland MSQ-100 sequencer became the sketch pad for the arrangement when Gregory began tinkering with a string patch on his JX. "That sequencer saved my artistic bacon, I have to say that," he laughs. "It's a wonderful device. I'm a born-again composer, almost, thanks to these little machines. I just kept running the parts by Andy for his response and then updated my program according to what we decided upon, and eventually we got the thing finished. Then I sat down and manually wrote out all the individual parts."
Although no other sequencing entered into the production, Skylarking's basic tracks were cut using Rundgren's LinnDrum. Real drums, performed by the Tubes' Prairie Prince, were added later in San Francisco. "It was only then that the album started coming to life," Gregory reports. "Before that, it was sounding very stiff and lifeless." The drums breathed so much life into "Earn Enough For Us" that the song was re-cut live with the drummer. "I'd love to do more songs like that," he says with enthusiasm, "because that's really what it's all about -- getting a good groove going as a group." "Machines are wonderful labor-saving devices," he insists, "but they can't perform. You're always left with that difficulty of having to inject human life into an inanimate object."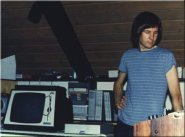 at Todd Rundgren's studio
For Gregory, there are two problems with mixing music and technology, one financial and one ideological. "Sequencers and drum machines are great," he states, "and really, they've opened my eyes to a lot of possibilities. But I simply can't afford to get involved with computers. It's a matter of finance."
Explaining the other side of the coin, Gregory -- true to the punk credo -- invokes the spirit of rock and roll as an argument against technology for its own sake. "I'm a bit of a blood and guts musician," he maintains. "I just like to stand on a stage with a little amplifier turned up loud and stamp my feet and go. To get high-tech in music is great as an aid to your work, but I think it's wrong to get so involved with it that it becomes any more than a means to an end."
"I can always tell when a song has been written on a computer," he asserts. "The human aspect is missing, and I think that's the most important thing to keep. If I'm totally honest," Gregory reflects, "I think that before I spent a lot of money on any new sequencer or new synthesizer, I'd probably rather have a couple more guitars."