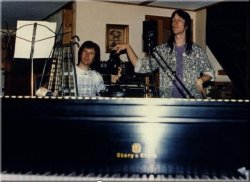 with Todd Rundgren
As it happens, Rundgren's involvement in the Skylarking project was largely Gregory's doing. Having been told by their record company that they sounded "too English," the band members received a list of American record producers. "It read like a roll call from Fort Baxter," Gregory laughs.
"We hadn't heard of anyone except for Todd. I said to the other guys, `Forget all those other names. Let's go with Todd.' I'd been a fan of his for so long, and it was a dream come true to work with him."
"The charts are full of things, particularly keyboard chord structures, that are just rip-offs of Todd's stuff. I find his influence in so much of other people's work, yet he's rarely credited with the inspiration. And not only does he write wonderful music, but his voice is one of the best voices in rock, I think, ever. To cut a long story short, we went over to Woodstock [in upstate New York, where Rundgren kept his studio at the time] and met the man. I can't say that we got on together all that well. It was a working relationship."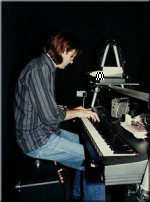 during rehearsals
The working relationship between Rundgren and XTC yielded what may be the band's finest record to date, and certainly one of the best rock records of the year. Skylarking is a Beatlesque amalgam of styles and moods, strung together Sgt. Pepper-style by a nearly continuous thematic and musical thread. The songs are overtly pop-oriented, featuring the melodic inventiveness and lyrical cleverness that are the hallmarks of XTC's style, and a structural complexity that skews otherwise simple song forms into labyrinths of well-turned musical phrases. And, of course, the keyboard work is prominent. Gregory modestly calls it "a bit of decoration."
Gregory's musical witticisms range from frivolous (bell tones answering Partridge's line "Are you deafened by the bells?") to subtle (the organ's pious overtones in "Season Cycle," which celebrates the changing of the seasons) to the essential (the spacious timbres of "Another Satellite"). "We try not to make it too obvious," he apologizes, clearly embarrassed that anyone might notice. "We like to put them in as a sort of subtle reference, but it doesn't do to make it too obvious, you know?"