Oranges and Lemons guitar
One bit of news that should interest XTC Guitargonauts this month comes from New Jersey guitar builder extraordinaire
Dennis Fano
. Check the link below to marvel at his latest Special Edition XTC Oranges and Lemons Tonestar II. Please visit
www.fanoguitars.com
for more details.
Now That's What I Call A Charity Album!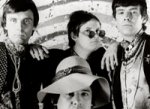 The Wish List
,
Steve Somerset's
compilation album in aid of
the MS Society
is now available. Steve takes up the story:
It was a bit of a coup getting all the Dukes back together for this. I'd called Andy Partridge at the beginning of the year and he agreed to contribute something to the project but as to what, he wasn't sure. We kicked around a few ideas but nothing seemed to gel. Some weeks later I bumped into actor and fellow-Camden resident Stephen Mackintosh (Lock, Stock & Two Smoking Barrels and a host of TV stuff); we were talking about what we were up to and I mentioned the charity album and Andy's involvement.

Stephen then proceeded to tell me how he had got into XTC via the Dukes. I relayed this back to Andy who immediately said, "Let's do a Dukes track!" Earlier that week I'd been speaking to Dave Gregory and he'd told me about a sitar guitar he'd just added to his armoury. The timing was perfect - Lord Cornelius Plum and electric sitar! We just needed a "yes" from Colin and Ian, which followed swiftly, and before you could say "where's the tin-opener?" a can of human beans was being cooked up for your delight, and a very good cause. The Dukes Of Stratosphear are back and you're in for a treat! According to Andy Partridge, "This album is so good that even if I wasn't on it, I'd have to buy it!"

Open A Can (Of Human Beans) kicks off the album, which features some great songs, eight of which are exclusive to this CD.

Dave should also be mentioned in despatches for appearing on three tracks. He's playing electric sitar, Mellotron and electric piano with the Dukes, guitar with the h-Band and arranging and playing on It's Alright by the Shadow Kabinet. This is going to be a limited release, so don't hang around!
The CD may be purchased online from Heyday Mailorder. To locate it quickly on their site, enter VAR83 in the Search box.