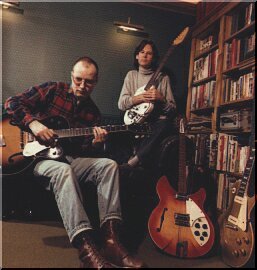 STRICTLY STUDIO
Not touring has given XTC all the time they need for writing, embellishing, and fine-tuning their songs. However, it's also taken a serious bite out of their income. Touring is a reliable way for bands to gain exposure and sell albums, and XTC appeared to be on the verge of a big breakthrough with English Settlement. The album was adored by critics. It also contained the song "Senses Working Overtime," which was the band's first single to make the U.K.'s Top Ten. When XTC quit touring, sales of subsequent albums plummeted.
Fortunately, this band has proven to be a tenacious trio. They may have lost their chance for a financial bonanza, but they've found a creative oasis in the studio. The fruits of their "studio days" have appeared on five major albums. They've also released various compilations and experimental recordings.
Because XTC doesn't have to worry about reproducing their music on stage, they can make their albums as elaborate as they like using overdubbing, synthesisers, and imaginative sound effects. This gives Dave Gregory a wide range of creative opportunities. In "Dear Madam Barnum," a song on the Nonsuch album, he takes credit for acoustic and electric guitars, hammond organ, acme thunderer, circus band, and backing vocals. (Of course, he couldn't perform all of these parts at once! The segments are recorded separately, and then these recordings, or "tracks," are played simultaneously in the final release.)
In addition to enjoying this artistic bonus, Gregory has been able to make use of his classical music lessons. While working on the Skylarking album, the band decided to use a string quartet for the song "1,000 Umbrellas." Gregory arranged the music for this quartet, and has continued to do string (and brass) arrangements on other albums. "I have a keyboard and a Proteus sample player which has maybe 300 or 400 different orchestral samples in it," he explains. "I hook them up via MIDI (Musical Instrument Digital Interface) to the keyboard and, well, you can create your own little orchestra given time."