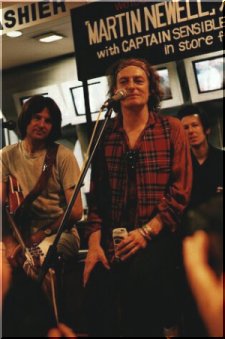 with Martin Newell at the Virgin Megastore, Tokyo
10/09/1994. Photo by
Hiroko Uehara
BETWEEN ALBUMS
"When we're rehearsing for an album it's nonstop music," says Gregory. "You're playing guitar, listening to demos, and just preparing yourself for recording. But the rest of the time, there's a lot of spare time.
The one thing Gregory does every day without fail is manage his diabetes, which includes taking a three-mile walk. Otherwise, he might be found doing any number of things, but he's happiest when he's involved in something musical. Fortunately, people have noticed his talents, and he's been able to accept a variety of projects from colleagues and admirers to help fill idle hours.
In 1992, for example, Gregory composed music for several episodes of a BBC-TV news series called "Close Up North." The job came from a producer at the station who was a big fan. "It's exactly the sort of stuff I need to do between XTC projects because I can do it from home," says Gregory. "It's just a question of creating some music, and it was a good way of occupying much of my spare time."
The string arrangements he did for the Skylarking album spurred several projects from outside sources, including one he did this summer for Gary Clark, a Scottish musician. It was for a song called "Lost And Found And Lost Again," which is on Clark's most recent solo album.
Gregory also likes playing to live audiences. XTC no longer provides him the opportunity, but other bands have recruited his talents. Last year, singer Aimee Mann invited Gregory to join her band for a British tour. They also played in a number of American clubs. This year, he did a ten-day tour of Japan with songwriter and poet Martin Newell. "He is a very amusing writer," says Gregory. "His sense of humour roped me in."
A few years ago, Gregory even got the chance to produce an album. This offer came from a friend who was co-managing a band called Cud. "I'd heard Cud and been vastly amused by them," he says. "I did a single with them and an album back in 1990 ("Hey! Wire" was the single and the album was called Leggy Mambo). My whole mission was to at least get them some radio play and possibly get them on television. They were not huge sellers, but it got them a major deal with A&M records." Gregory seems to enjoy the variety of projects he's been offered. "It is nice," he says, "It's much better than working, let me tell you. An office job would just destroy me."